Decommissioning and Dismantling of HVAC Equipment - Pharma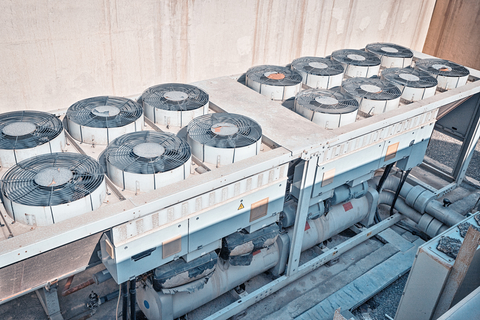 A 55,000 sq. ft. pharmaceutical facility in New Jersey was slated to undergo demolition. The 60-year-old building had undergone previous renovations over the years during which obsolete HVAC equipment had been decommissioned but never removed from the rooftop. R. Baker & Son had previously completed demolition of the building's interior, and now we were tasked with decommissioning and dismantling of equipment that had been in use until recently, dismantling of the old equipment, and rigging the disassembled equipment from the roof. This included air handlers, heat exchangers, scrubbers, large exhaust fans, chillers, and cooling towers, as well as a penthouse structure.
Following abatement of lead paint and asbestos, recovery of refrigerant and oil from old compressors and pumps, construction of barricades, and installation of a safety line at the edge of the roof, the Baker team began the dismantlement process. Several four-person crews worked inward from the edge of the building using saws, cutting torches, fire blankets, extinguishers, and ladders. With very little room to maneuver among the large machinery, clear radio communication and hand signals during rigging were particularly critical to preserving safety. Access to the rear and sides of the building was limited due to pipe racks and cable trays that were still in service for other buildings on the campus and had to remain in place until the end, So the dismantled equipment was rigged from the front of the building to waiting for lowboy tractor-trailers using two 80-ton hydraulic cranes with extended jib.
The decommissioning and dismantling phase of the project was completed safely and on schedule, paving the way for R. Baker & Son to begin the final phase of demolition.

About R. Baker & Son All Industrial Services
R. Baker & Son All Industrial Services, a Minority and Women-Owned Business Enterprise (M/WBE), in business since 1935, is a premier specialized contractor operating in the United States, Canada, and Puerto Rico, with over one hundred employees and an exemplary safety record (we have been directly involved in four sites that received VPP OSHA Safety Awards). R. Baker & Son is financially strong, with bonding capabilities of over $10 million. Capabilities include industrial and commercial demolition, rigging, machinery- and plant-moving, dismantling, decommissioning, plant and equipment relocation, interior demolition, selective demolition, warehousing, wrecking and razing, millwright, plant reconfigurations, heavy rigging, salvage, environmental services, remediation, decontamination, abatement, and investment and asset recovery.
R. Baker & Son - All Industrial Services
190 Boundary Road
Marlboro, NJ 07746
732-222-3553
Full News Archive
2023
2022
2021
2020
2019
2018
2017
2016
2015
2014
2013
2012
2011
2010
2009
2008