Colossal Claw Revolutionizes Rigging of Sunken Oil Rigs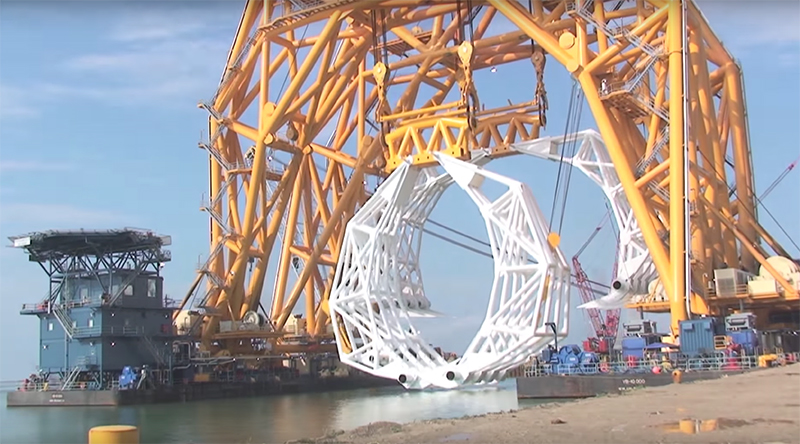 One of the most striking man-made sights in the Gulf of Mexico is the Versabar VB 10,000, the largest seagoing heavy lift vessel ever built in the United States. Based on Versabar's smaller "Bottom Feeder" barge-mounted crane, the $100 million catamaran-style vessel was designed to retrieve sunken oil rig platforms from the seafloor in one piece, rather than expose divers to the dangers of manually dismantling the massive decks and rigging them to the surface in sections. The VB 10,000 is also used for decommissioning and installing offshore platforms.
First launched in 2010, the VB 10,000 is comprised of two bright yellow, 240-ft tall barge-mounted arched trusses with a hook height of 178 feet. Lift capacity of the vessel is 7,500 short tons in a single lift. Each of the two 300-ft long barges are equipped with dynamic positioning thrusters that allow the vessel to remain stationary, with an accuracy of mere inches, without the aid of anchors or mooring lines during rigging activities. With 160 feet of clearance between the barges, loads can be rigged to or from cargo barges positioned below.
Versabar partnered with Chevron in 2011 to produce add-on grappling devices for the VB 10,000 that would minimize diver risk during salvage operations. In just eight months, Versabar designed and constructed twin devices collectively nicknamed "The Claw" due to their uncanny resemblance to the popular arcade crane game. Each of the 122-ft tall, 112-ft wide gantry-suspended steel jaws is capable of rigging 2,000 tons from depths of up to 500 feet without having to send divers into the water to attach rigging. They can be used in conjunction with specially-designed baskets, or "cradles", used support the fragile sunken platforms. The Claw first "scoops" the underwater wreckage onto the cradle then rigs the entire package to the surface. Due to the versatility of its design, Claw can be customized to suit each individual rigging operation.
R. Baker & Son
190 Boundary Road
Marlboro, NJ 07746
http://www.rbaker.com
~photo credit Versabar
Full News Archive
2023
2022
2021
2020
2019
2018
2017
2016
2015
2014
2013
2012
2011
2010
2009
2008