Rigging and Assembly on HVAC Upgrade Project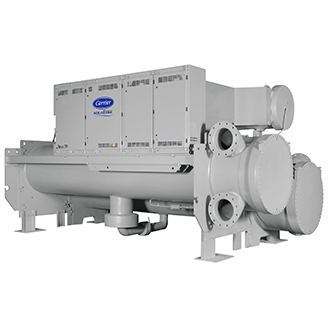 Last winter, R. Baker & Son took part in several HVAC energy upgrade projects on four air handling units ranging from 30,000 to 50,000 CFM at a Northern New Jersey hospital, as well as the removal of a 1,000-ton chiller and replacement with two 450-ton energy-efficient centrifugal chillers.
Work included removal of a single centrifugal fan from each unit and replacing them with fan array assemblies of multiple fans. This was achieved by cutting a neat opening in the side of each air handling unit, rigging out the larger fans, and carefully installing walls of sixteen smaller fans inside the units.
Upper and lower chilled water coils were also replaced in the four air handling units. Working with the mechanical contractor, the coils were disconnected and removed and replaced with a larger row of coils. R. Baker & Son also worked with the sheet metal contractor, who installed new, larger condensate pans at the base of the new coils. New and existing coils and fans were rigged from the penthouse with an 80-ton hydraulic crane. Skates and dollies were utilized to route the equipment through the penthouse, and a gantry was used to remove and install the new ½-ton coils. Once rigging of the new fan array and coils had been completed, the sheet metal contract replaced the existing filter rack with prefabricated filter racks, and the units were sealed up to complete the piping, electrical and fan array controls.
Work on the air handling units was performed one at a time, as all four could not be shut down at once, and temporary cooling was provided during each shutdown. Each unit took 2.5 days working on two shifts to complete, near record time.
About R. Baker & Son All Industrial Services
R. Baker & Son All Industrial Services, a Service-Disabled Veteran-Owned Business (SDVOB) in business since 1935, is a premier specialized contractor operating in the United States, Canada and Puerto Rico, with over one hundred employees and an exemplary safety record (we have been directly involved in four sites that received VPP OSHA Safety Awards). R. Baker & Son is financially strong, with bonding capabilities over $10 million. Capabilities include industrial and commercial demolition, rigging, machinery- and plant-moving, dismantling, decommissioning, plant and equipment relocation, interior demolition, selective demolition, warehousing, wrecking and razing, millwright, plant reconfigurations, heavy rigging, salvage, environmental services, remediation, decontamination, abatement, and investment and asset recovery.
R. Baker & Son - All Industrial Services
190 Boundary Road
Marlboro, NJ 07746
732-222-3553
https://rbaker.com/rigging-contractors.php

photo: courtesy of Carrier Corp.
Full News Archive
2023
2022
2021
2020
2019
2018
2017
2016
2015
2014
2013
2012
2011
2010
2009
2008