Surgical Industrial Dismantling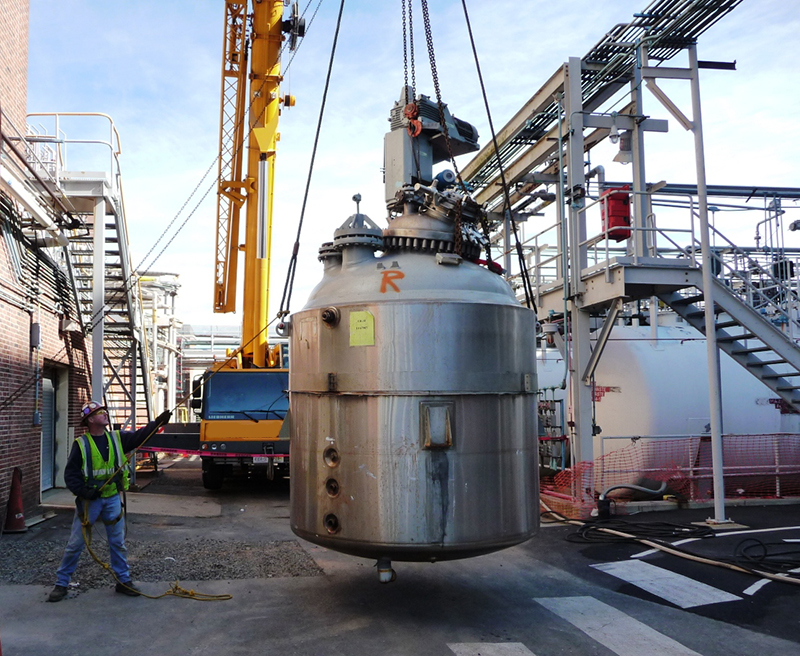 Critical dismantling and demolition projects, such as medical facilities, pharmaceutical plants, data centers, advanced manufacturing, etc., require enabling work for the project to move forward. This was the case in a large enabling project R. Baker & Son recently completed for a pharmaceutical plant in New Jersey.

It was imperative on this particular project that ongoing plant operations could continue without interruption. This requirement added another level of complexity to the planning and execution of the project and required close cooperation with the client during an extensive planning process, as well as through the application of value engineering to keep project costs in check. Through this intense scrutiny it was determined that the project would proceed with meticulously-planned enabling phases. These included demolition and rigging performed by R. Baker & Son as well as electrical, mechanical, site utility work, and excavation performed by other subcontractors.

The phases consisted of the following:
Because of the critical nature of the enabling projects, some exploratory work was required to locate and trace utilities such as electrical feeders, steam and condensate lines, and waste water.
New utility lines were run and tied in during off-hours and weekends so that the identified existing utility lines could be demoed to make way for new foundations.
Demolition of an existing office area was performed to make way for a temporary loading dock, and the existing loading dock was demoed to be replaced by a new mechanical room.
Once the new mechanical room was up and running, the facility's second floor mechanical room was demolished.
A new generator and cooling towers were installed on the north side of the building and tied into the facility so that existing units could be demoed and removed to make way for a new building entranceway.
A new foundation and façade was added to the south side of the building so that the existing exterior could be removed in to make way for a new data center, MDF, and IDF.
Select demolition was performed on specific office areas and corridors so that new utilities, such as chilled water, reheat, electrical, and fiber-optic lines, could be run to support the new facility.
Once the exacting enabling phases had been completed, without interrupting operations as required by the client, the remaining phases of demolition and construction proceeded smoothly and on schedule. The project was ultimately completed successfully to the client's full satisfaction.

About R. Baker & Son All Industrial Services

R. Baker & Son All Industrial Services, a Service-Disabled Veteran-Owned Small Business (SDVOSB) in business since 1935, is a premier specialized contractor operating in the United States, Canada and Puerto Rico, with over one hundred employees and an exemplary safety record (we have been directly involved in four sites that received VPP OSHA Safety Awards). R. Baker & Son is financially strong, with bonding capabilities over $10 million. Capabilities include industrial and commercial demolition, rigging, machinery- and plant-moving, dismantling, decommissioning, plant and equipment relocation, interior demolition, selective demolition, warehousing, wrecking and razing, millwright, plant reconfigurations, heavy rigging, salvage, environmental services, remediation, decontamination, abatement, and investment and asset recovery.
R. Baker & Son - All Industrial Services
190 Boundary Road
Marlboro, NJ 07746
732-222-3553
http://www.rbaker.com
Full News Archive
2023
2022
2021
2020
2019
2018
2017
2016
2015
2014
2013
2012
2011
2010
2009
2008