Metal Recovery and Recycling - Construction Debris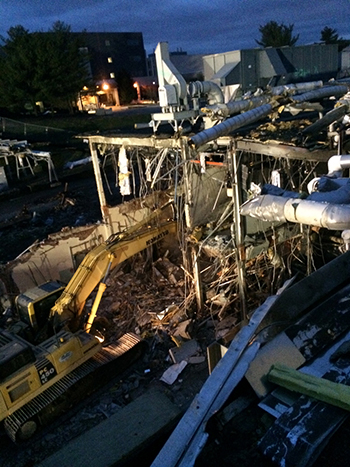 As a demolition, dismantling, and decommissioning contractor, R. Baker & Son is heavily involved in metal recovery and recycling. Scrap metals are divided into two basic categories, ferrous (metal that contains iron) and non-ferrous. The most commonly recycled metals, by volume, are iron and scrap steel, copper, aluminum, lead, zinc, and stainless steel.

Ferrous metals, which can be processed and remelted repeatedly, are some of the most recycled materials in the world. When comparing the steel consumption of the construction industry vs. the amount of recycled steel being produced, more than 97% of structural steel is currently being recycled. Sources of ferrous metals during demolition are structural beams, plates, pipes, machinery, tanks, tubes, wiring, and shot. Non-ferrous metals recovered from demolition sites include copper cables, copper and zinc pipes and radiators, and aluminum siding.

Scrap metal prices are determined by a combination of factors. These include overseas scrap prices (an estimated 55% of ferrous scrap is exported from the U.S. each year), the domestic market, and supply and demand. Scrap prices tend to increase when construction and car sales are up. R. Baker & Son handles over 100,000 tons of scrap per year, which allows us to command top marketplace value. Scrap revenue credits are passed along to our clients, which can help to substantially offset project costs.

Recycling and/or salvage of construction debris is worth 1-2 LEED points, with a waste diversion rate of fifty percent earning one point and seventy-five percent earning two points. R. Baker & Son guarantees 100% LEED compliancy on all demolition, dismantling, and decommissioning projects.
About R. Baker & Son All Industrial Services

R. Baker & Son All Industrial Services, a Service-Disabled Veteran-Owned Small Business (SDVOSB) in business since 1935, is a premier specialized contractor operating in the United States, Canada and Puerto Rico, with over one hundred employees and an exemplary safety record (we have been directly involved in four sites that received VPP OSHA Safety Awards). R. Baker & Son is financially strong, with bonding capabilities over $10 million. Capabilities include industrial and commercial demolition, rigging, machinery- and plant-moving, dismantling, decommissioning, plant and equipment relocation, interior demolition, selective demolition, warehousing, wrecking and razing, millwright, plant reconfigurations, heavy rigging, salvage, environmental services, remediation, decontamination, abatement, and investment and asset recovery.

R. Baker & Son
1 Globe Court
Red Bank, NJ 07701
Phone: 732-222-3553
Web: http://www.rbaker.com
Full News Archive
2023
2022
2021
2020
2019
2018
2017
2016
2015
2014
2013
2012
2011
2010
2009
2008