Challenging and Dangerous Duct Demolition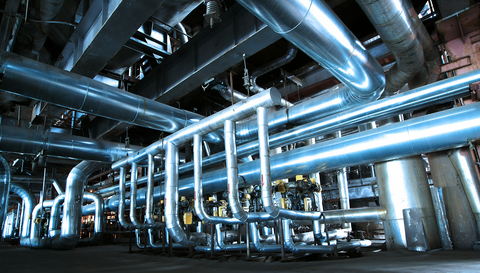 A rare malfunction in a large HVAC system caused exhaust ductwork to collapse due to a severe negative pressure condition, and building owners were faced with a dilemma. The 160-ft. duct had to be replaced as soon as possible, but it ran 22 feet above the finished floor surrounded by a maze of conduit, piping, sprinkler, controls, and pneumatic lines, to name just a few, making it virtually impossible to access. When the job was deemed too difficult and dangerous for sheet metal workers, R. Baker & Son was called in.
After a careful assessment of the situation, the Baker Team determined that there were only two areas from which the collapsed 40-inch. stainless steel round duct could be accessed. The entire run would need be cut out piece by piece and removed from these two areas and new duct would be installed through these same openings. A Baker demolition crew erected two scaffolds and fastened steel walkways between trapeze supports to give some walkable access and fall protection tie-off points, then set up a cabling system upon which canvas slings would be suspended.
Next, demolition workers used hydraulic shears to cut out 6- to 8-ft. sections of the old duct. The sections were cradled in the canvas slings and carefully lowered to the mechanical room floor below. Newly-fabricated 6- to 8-ft. flanged sections of stainless steel duct was brought in, and Baker crew members carefully threaded the new sections one by one through the maze of pipes, bolted the flanges with gasketing, and tightened the bolts down with torque wrenches to eliminate air leaks. Once the ductwork was successfully pressure tested, the Baker Team removed the scaffolding and the since-repaired HVAC system was put back on line.
About R. Baker & Son All Industrial Services
R. Baker & Son All Industrial Services, a Service-Disabled Veteran-Owned Business (SDVOB) in business since 1935, is a premier specialized contractor operating in the United States, Canada and Puerto Rico, with over one hundred employees and an exemplary safety record (we have been directly involved in four sites that received VPP OSHA Safety Awards). R. Baker & Son is financially strong, with bonding capabilities over $10 million. Capabilities include industrial and commercial demolition, rigging, machinery- and plant-moving, dismantling, decommissioning, plant and equipment relocation, interior demolition, selective demolition, warehousing, wrecking and razing, millwright, plant reconfigurations, heavy rigging, salvage, environmental services, remediation, decontamination, abatement, and investment and asset recovery.
R. Baker & Son - All Industrial Services
190 Boundary Road
Marlboro, NJ 07746
732-222-3553
Full News Archive
2023
2022
2021
2020
2019
2018
2017
2016
2015
2014
2013
2012
2011
2010
2009
2008