Important Safety Basics for Interior Demolition Projects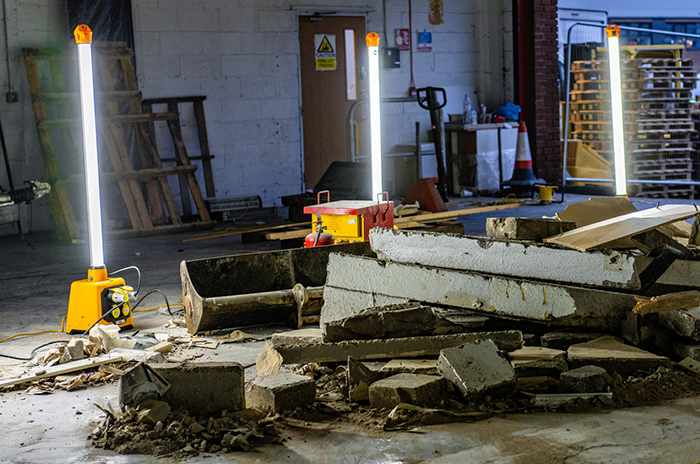 Demolition can be a dirty business with ever-changing safety concerns. Every project is unique, but there are three basic things that should be addressed in every interior demolition project to help keep demolition workers safe while working efficiently, stay on schedule, avoid costly changes and delays, and minimize surprises.
Temporary lighting sounds simple, but providing adequate lighting in certain areas during demolition can be a challenge. The demolition team oftentimes is not in control of temporary lighting, which should be about 3 watts per square foot, so R. Baker & Son works closely with the project team to ensure that lighting is properly maintained and relocated daily as work progresses. Dark spots can often include stairwells, corridors, shafts, mechanical areas, and small rooms.
Basic ventilation is a necessity for dust control on interior demolition projects. Mechanical ventilation can entail using existing or temporary fans to move air from one area to the other, ideally with several air changes per hour. Alternatively, the demolition contractor can create several openings to provide natural airflow.
Liquids, chemicals, oils, gases, etc., should be removed from tanks, pipes, basins, and low-lying areas before demolition begins. These can include HVAC water with glycol and rust inhibitors and refrigerant in evaporator coils, condenser coils, and refrigerant lines.
About R. Baker & Son All Industrial Services
R. Baker & Son All Industrial Services, a Minority and Women-Owned Business Enterprise (M/WBE), in business since 1935, is a premier specialized contractor operating in the United States, Canada, and Puerto Rico, with over one hundred employees and an exemplary safety record (we have been directly involved in four sites that received VPP OSHA Safety Awards). R. Baker & Son is financially strong, with bonding capabilities of over $10 million. Capabilities include industrial and commercial demolition, rigging, machinery- and plant-moving, dismantling, decommissioning, plant and equipment relocation, interior demolition, selective demolition, warehousing, wrecking and razing, millwright, plant reconfigurations, heavy rigging, salvage, environmental services, remediation, decontamination, abatement, and investment and asset recovery.
R. Baker & Son - All Industrial Services
190 Boundary Road
Marlboro, NJ 07746
732-222-3553
Full News Archive
2023
2022
2021
2020
2019
2018
2017
2016
2015
2014
2013
2012
2011
2010
2009
2008