Innovative Plan in Manhattan High Rise Project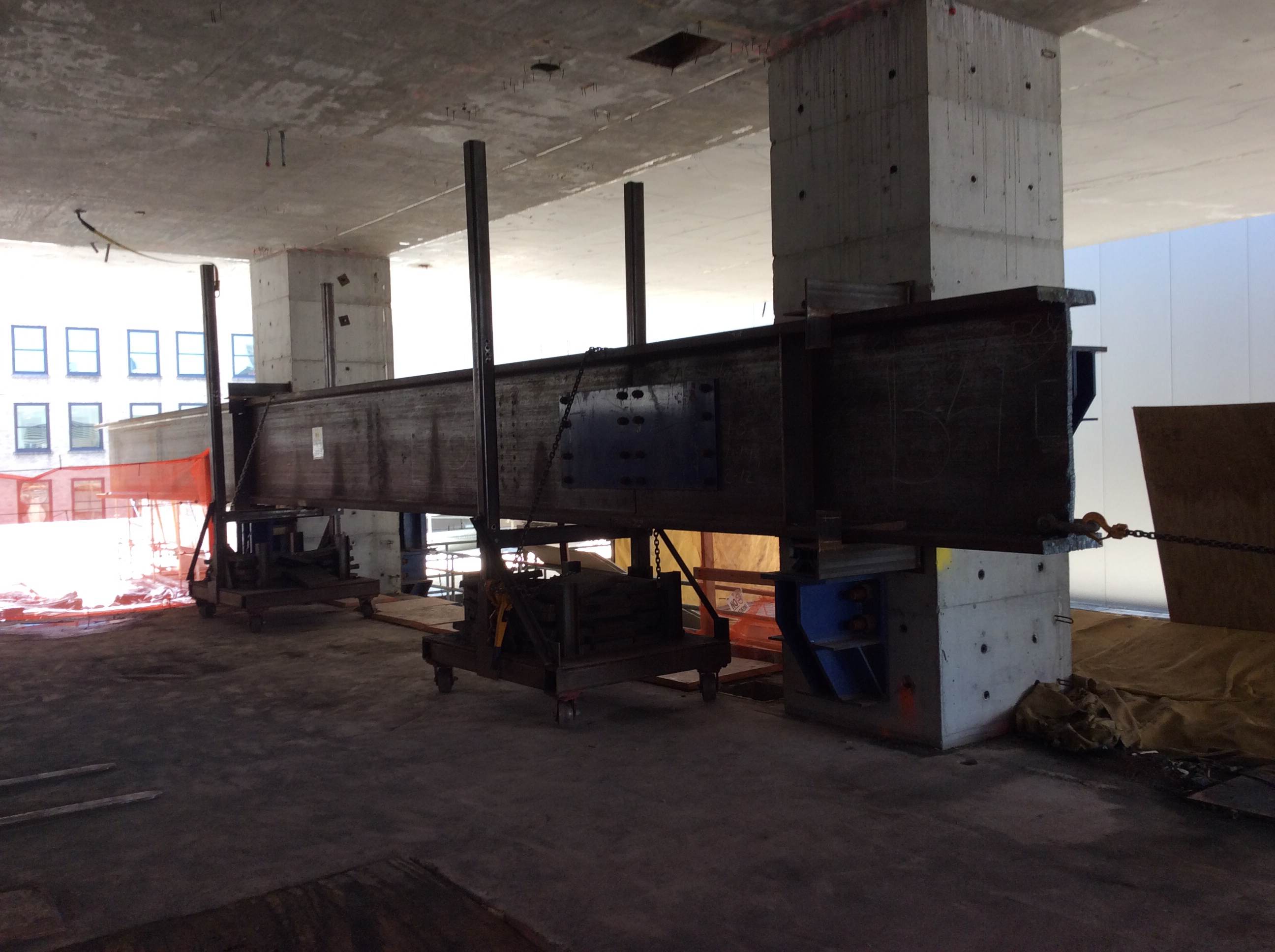 By the time construction of 56 Leonard, an iconic new residential skyscraper located in the Tribeca section of Manhattan, wrapped up late last year, all of its 145 luxury units had sold out, some going for prices as high as $48 million. Known as the Jenga Tower due to its stunning and unusual appearance, the glass-encased 60-story building features a staggered silhouette of shifting and varying floorplates, cantilevers, and balconies. Not surprisingly, construction of 56 Leonard was exceptionally complex, even by New York City standards, which was recognized last month when ENR New York named 56 Leonard 2017's Best Project in the Residential/Hospitality category.
R. Baker & Son took on one of the challenging project's early hurdles: the removal of massive steel I-beams cantilevered 25 feet over the roof of an adjacent building. The falsework beams were installed on the 6th floor to provide temporary structural support until the concrete had sufficiently cured while construction progressed on the floors above. R. Baker & Son was challenged to develop an innovative plan to remove the huge beams safely and efficiently. Taking into account the many complex logistical challenges of the project, Baker engineers determined that beam sections would need to be cut and removed from the structure's interior, rather from the exposed ends jutting from the building. After hours of brainstorming, the Baker team came up with a unique and inventive solution that would provide the key to the project: custom-fabricated weighted dollies that would be used to slide the beams inward while serving as counterweights.
The removal procedure began with Baker team members fabricating steel guides around each I-beam and securing them to nearby concrete columns. After attaching two heavily-weighted dollies to each beam, workers would cut a 4-foot section, each weighing 1,200 lbs., from the interior end of the I-beam. The dollies/counterweights prevented the cantilevered ends of the beams from tipping past the fulcrum point when the sections were detached. Each time a section was removed, Baker crew members used heavy-duty winches to wheel the remaining beam another four feet into the building. Then everything would be repositioned and the entire process would be repeated. The removed sections were stacked three high, and workers utilized an in-house material hoist to lower the 3,600-lb. stacks to ground level.
R. Baker & Son - All Industrial Services
190 Boundary Road
Marlboro, NJ 07746
732-222-3553http://rbaker.com/demolition-contractors-new-jersey.php
Full News Archive
2023
2022
2021
2020
2019
2018
2017
2016
2015
2014
2013
2012
2011
2010
2009
2008