Interior Demo of Old School for Conversion to Residential Units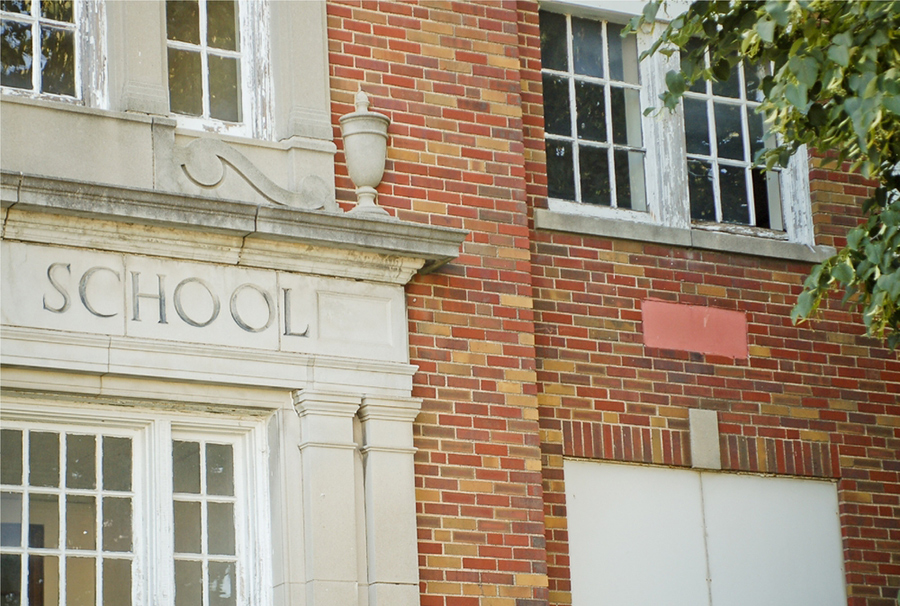 An architect that R. Baker & Son has collaborated with reached out to us with a special interior demolition opportunity in South Jersey. The project held sentimental value for her as it involved the elementary school she attended during her childhood. The school was to be converted into residential units, and our client envisioned it as a salvage project that would blend the old and the new.
Over the years, an addition had been built onto the approximately 65,000-square-foot school building and it had undergone several renovations. R. Baker & Son reviewed the project with the architect and worked with her to determine the most cost-effective way to salvage many of the school's historic elements and preserve others in place.
Items that would be salvaged included light fixtures, classroom doors, wood from the gymnasium floor, lockers, hallway casework, clocks, office desks, and more. What would remain were the original stairwells and the main entryway with interior doors and pendant light fixtures.
Demolition began with the removal of most of the interior walls, ceilings, floors, and HVAC ductwork. We used an 80-ton crane with an extended jib to remove five large packaged air handling units and numerous exhaust fans and replaced them with temporary curbs and caps to keep the weather out until a new roof could be installed. Two 1,000 HP boilers, a deaerator, and two air compressors were removed from the mechanical room through the outside air intake louvers. Demolition debris was removed using battery-operated skid steers and separated for recycling.
Many of the electrical panels throughout the building were removed, along with old phone lines and associated equipment. The main electrical room and service were temporarily left intact to provide power for demolition and construction activities. All bathroom fixtures and plumbing were removed. Unit ventilators and hot water baseboard heating were removed to make way for new energy-efficient heat pumps.
Wide sidewalks on the front and side of the building, which were to be replaced with a grassy area and paver walkway, were broken up and removed using a 10-ton excavator equipped with a hydraulic hammer and two large skid steers. An old outdoor basketball court was removed to make way for a large new patio area, as well. Finally, the building's exterior was power-washed and brushed to ready it for mortar repairs.
The architect and construction project manager made visits to the site to review progress and answer any open questions. After all demolition had been completed, the R. Baker & Son demolition team made sure everything was cleaned, broom swept, and ready for the school's transformation into residential housing to begin.
About R. Baker & Son All Industrial Services
R. Baker & Son All Industrial Services, a Minority and Women-Owned Business Enterprise (M/WBE), in business since 1935, is a premier specialized contractor operating in the United States, Canada, and Puerto Rico, with over one hundred employees and an exemplary safety record (we have been directly involved in six sites that received VPP OSHA Safety Awards). R. Baker & Son is financially strong, with bonding capabilities of over $20 million. Capabilities include industrial and commercial demolition, rigging, machinery- and plant-moving, dismantling, decommissioning, plant and equipment relocation, interior demolition, selective demolition, warehousing, wrecking and razing, millwright, plant reconfigurations, heavy rigging, salvage, environmental services, remediation, decontamination, abatement, and investment and asset recovery.
R. Baker & Son - All Industrial Services
190 Boundary Road
Marlboro, NJ 07746
732-222-3553
Full News Archive
2023
2022
2021
2020
2019
2018
2017
2016
2015
2014
2013
2012
2011
2010
2009
2008