Hurricane Ida Ground Stabilization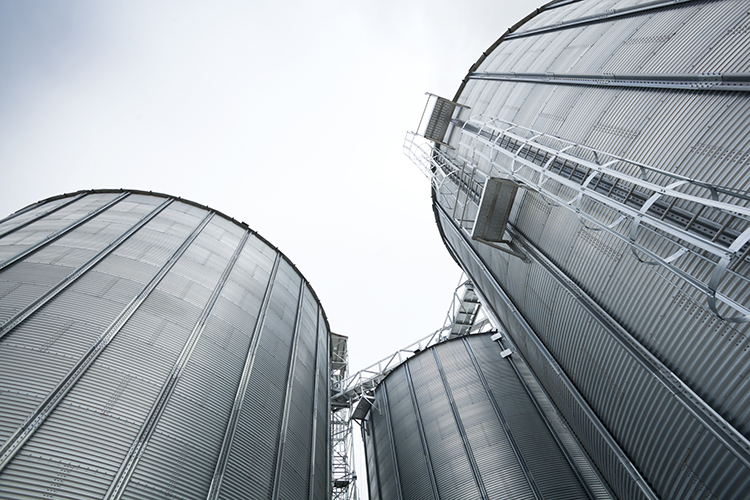 On September 1, 2021, the remnants of Hurricane Ida swept across the Northeast, leaving record-breaking amounts of rain in her path. At the time, several R. Baker & Son crews were in the midst of a large, state-of-the-art recycling plant construction project in eastern Pennsylvania where truck loading platforms and six 50-foot outdoor silos were being erected. Our crew of riggers and millwrights were working 10-hour shifts alongside electricians, process piping mechanics, and instrumentation technicians to complete the project by the end of the month. The storm dumped more than five inches of rain on the job site over the course of the day.
Construction crews returned to work early the next morning to find deep mud with small gullies threading throughout the site where gravel and soil had been washed out by the copious rainfall. It was immediately obvious that operating several 50-foot boom lifts and an 80-ton mobile crane on the soft, unstable, uneven ground would be impossible. Construction managers considered spreading more gravel over the site, but that plan was quickly ruled out as the heavy equipment would simply push the gravel down into the mud. They were considering calling off work for the day while they figured out what to do, but R. Baker & Son's project manager and crew had already come up with a solution.
R. Baker & Son set in motion a plan to quickly transport dozens of steel plates to the job site. While they were awaiting delivery, two Bobcats set to work removing soil from the muddiest areas around the facility, replacing it with dry fill, and topping it with gravel. By mid-morning, the work had been completed. Shortly thereafter, the 46 steel plates arrived on site, and our rigging crew arranged them strategically around the structure on the newly compacted soil and gravel.
The entire operation stabilizing the ground and allowing free, safe mobility for the mobile crane and various articulating booms and lifts and was completed by noon, and the trades quickly resumed working toward the common goal of meeting the project's approaching end date.
About R. Baker & Son All Industrial Services
R. Baker & Son All Industrial Services, a Minority and Women-Owned Business Enterprise (M/WBE), in business since 1935, is a premier specialized contractor operating in the United States, Canada, and Puerto Rico, with over one hundred employees and an exemplary safety record (we have been directly involved in four sites that received VPP OSHA Safety Awards). R. Baker & Son is financially strong, with bonding capabilities of over $10 million. Capabilities include industrial and commercial demolition, rigging, machinery- and plant-moving, dismantling, decommissioning, plant and equipment relocation, interior demolition, selective demolition, warehousing, wrecking and razing, millwright, plant reconfigurations, heavy rigging, salvage, environmental services, remediation, decontamination, abatement, and investment and asset recovery.
R. Baker & Son - All Industrial Services
190 Boundary Road
Marlboro, NJ 07746
Full News Archive
2023
2022
2021
2020
2019
2018
2017
2016
2015
2014
2013
2012
2011
2010
2009
2008