Visit R. Baker & Son at the INTERPHEX Puerto Rico 2010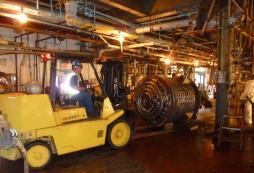 R. Baker & Son All Industrial Services has a booth at the INTERPHEX show in Puerto Rico. The show starts March 4, 2010 and ends March 5, 2010. R. Baker & Son has booth number 618 which will be hosted by Mr. Art Sferlazzo. We are pround to be part of the Caribbean's premier event for pharmaceutical, biopharmaceutical and medical device manufacturing.
As stated on the INTERPHEX website - INTERPHEX Puerto Rico 2010The Caribbean's Premier Event for Pharmaceutical, Biopharmaceutical and Medical Device Manufacturing. Celebrate the best our industry has to offer at INTERPHEX Puerto Rico 2010, as you adapt to all aspects and phases of our ever-changing life sciences environment. Discover for yourself advancements in technology and solutions for improving your manufacturing efficiencies – all at INTERPHEX Puerto Rico.
About R. Baker & Son All Industrial Services
R. Baker & Son All Industrial Services is the premier specialized contractor for dismantlement, decommissioning and demolition in the United States, Canada and Puerto Rico. The veteran owned company has been in business since 1935, has over 100 employees, an exemplary safety record (We have been directly involved in four (4) sites that received VPP OSHA Safety Awards) and is financially strong (bonding capabilities over $10 Million). Capabilities include total plant and facility dismantlement, decommissioning, building demolition, plant relocations and re-installations as well as heavy equipment rigging and machinery moving, millwright services and onsite concrete crushing.
Corporate Contact Information
R. Baker & Son All Industrial Services
1 Globe Street
Red Bank, NJ 07701
Phone: 732-222-3553
Fax: 732-450-0311
Website: www.rbaker.com
For more information visit our website or contact Damon Kozul, PE, CHMM at dkozul@rbaker.com
Full News Archive
2023
2022
2021
2020
2019
2018
2017
2016
2015
2014
2013
2012
2011
2010
2009
2008