Demolition by Implosion an Impressive Sight to See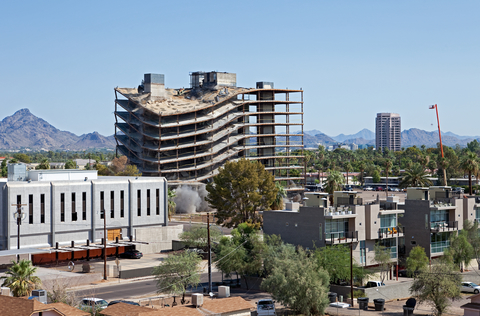 Demolition by implosion, in which explosives are used to make a building collapse down into its footprint, can be an impressive sight to see. Huge buildings, arenas, bridges and other structures that took years to build can be taken down in a matter of seconds with explosives that are strategically placed and timed to undermine supports.
Implosion of tall buildings and landmark structures throughout the world are often highly-publicized spectator events, with hundreds or even thousands of people in attendance. Most demolition implosions are scheduled for Sunday mornings when area activity is at a minimum. Media outlets and photographers perch on ideal viewing spots, and remote cameras are set up to capture close-up views of demolition. Bright banners and advertisements are often hung on the building slated to be demolished.
Cordoned-off viewing areas have food trucks, vendors and musical entertainment for the enjoyment of the spectators, and toy detonators are handed out to children. Speeches often precede the main event talking about the building's history and the preparations that went into preparing for the implosion. The crowd is sometimes treated with a fireworks display, some in the sky above the demolition site, others emanating from the doomed structure itself.
As the scheduled implosion time approaches, the demolition crew performs a final check and the countdown begins. At zero, children press their plungers, setting off (in their minds) the spectacular sequence of explosions that cause the building to neatly collapse in on itself in a cloud of dust, and awed spectators cheer and applaud the remarkable show.
About R. Baker & Son All Industrial Services

R. Baker & Son All Industrial Services, a Service-Disabled Veteran-Owned Business (SDVOB) in business since 1935, is a premier specialized contractor operating in the United States, Canada and Puerto Rico, with over one hundred employees and an exemplary safety record (we have been directly involved in four sites that received VPP OSHA Safety Awards). R. Baker & Son is financially strong, with bonding capabilities over $10 million. Capabilities include industrial and commercial demolition, rigging, machinery- and plant-moving, dismantling, decommissioning, plant and equipment relocation, interior demolition, selective demolition, warehousing, wrecking and razing, millwright, plant reconfigurations, heavy rigging, salvage, environmental services, remediation, decontamination, abatement, and investment and asset recovery.
R. Baker & Son - All Industrial Services
190 Boundary Road
Marlboro, NJ 07746
732-222-3553
http://rbaker.com/demolition-contractors-new-jersey.php
Full News Archive
2023
2022
2021
2020
2019
2018
2017
2016
2015
2014
2013
2012
2011
2010
2009
2008