Brokk Demo Machines on Pharma Project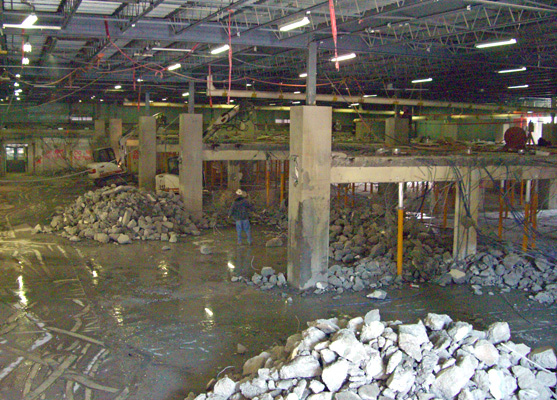 Oftentimes during demolition projects, R. Baker & Son crews encounter existing factors that can limit equipment access and pose health and safety risks to workers. With considerable advances being made in robotic technology, remote-control demolition machines can often provide the perfect solution to such challenges.
Demolition robots are extremely versatile and hold many advantages over traditional equipment and hand-operated tools. These remotely-controlled machines have the ability to venture into confined spaces and other hard-to-access areas, minimizing worker exposure to hazardous materials and physical risks. They are particularly suited for interior demolition applications. Like their larger, fuel-powered counterparts, demolition robots can be fitted with a wide variety of attachments such as breakers, crushers, buckets, grapples, scabblers and drilling equipment, but because they are electrically-operated, they are emission-free and can be safely used indoors.

R. Baker & Son recently utilized Brokk remote-controlled demolition machines to remove large elevated platforms during an interior demolition project at a New Jersey pharmaceuticals plant. Crew members operated remote controls from a safe vantage point as several Brokk 400 robots worked simultaneously to break concrete and cut through rebar from elevated bays. The sturdy demolition machines allowed R. Baker & Son to complete the project safely, efficiently, and on-time.
R. Baker & Son - All Industrial Services
1 Globe Court
Red Bank, NJ 07701
Phone: 732-222-3553
Web: http://www.rbaker.com
Full News Archive
2023
2022
2021
2020
2019
2018
2017
2016
2015
2014
2013
2012
2011
2010
2009
2008