R. Baker & Son Equipment and Machinery Moving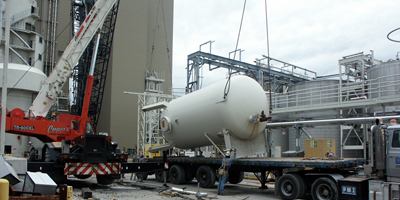 With increased plant consolidation and plant relocation problems there has been an uptick in the need for equipment and machinery moving. Though machinery moving may seem straightforward, it can be a complicated process. Some projects have individual pieces of machinery or entire process lines moving into a nearby building, while other projects require equipment to be moved cross country or overseas.
The first step in machinery moving is disconnection of all power and utilities, after which equipment such as Heidelberg presses, fluid beds, granulators, lyophilizers, and large custom process boilers are ready for removal. Design drawings should be utilized to locate shipping splits and bolted-on equipment such as heat exchangers, and piping assemblies, though oftentimes the drawings have been lost or thrown away by mistake. If this is the case, equipment manufacturers can usually provide information on splits are located.
It is good practice to get the manufacturer involved to make repairs and perform a detailed preventative maintenance on machinery prior to moving, such as replacing gaskets, installing new heat exchangers, upgrading controls, replacing filters, etc. In such cases, manufacturer may extend the equipment warranty.
Individual pieces should be match-marked to indicate how to reassemble machinery. Match marking can be as simple as numbering and color coding, and more sophisticated methods use BIM modeling as well as high resolution photos. It is important to make certain that each piece can fit in limited access and egress areas, such as small elevators. Weights and sizes of each machinery piece must also be determined.
R. Baker & Son All Industrial Services is expert in equipment and machinery moving throughout the United States, Puerto Rico, Canada, and Europe. Services include rigging, installation, alignment, match marking, moving and erector services, millwrighting, hauling, and warehousing. We also provide asset recovery and salvage services for machinery and equipment.
R. Baker & Son All Industrial Services
1 Globe Court
Red Bank, NJ 07701
Phone: 732-222-3553
Fax: 732-450-0311
Web: http://www.rbaker.com/
Facebook: http://rbaker.com/rigging-contractors.php

Full News Archive
2023
2022
2021
2020
2019
2018
2017
2016
2015
2014
2013
2012
2011
2010
2009
2008