Proper Radio Communication on Construction Sites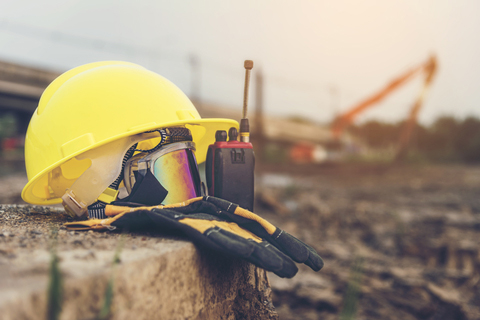 Communication is key, is a popular saying that is especially fitting on a construction, rigging, or demolition job-site. Radio communication is an important tool that helps team members work more safely and efficiently, but in order to be effective, workers must be trained on the proper use of radios. All R. Baker & Son demolition team members, riggers and millwrights receive training and Toolbox Talks on radio communication.
Here are some of the keys to good radio communication in construction, rigging and demolition:
Use quality radio equipment with a strong signal and have spare radios on hand.

Radios should be tested prior to use for clearness and proper operation.

Make sure all workers have been trained on how to properly use the radio equipment and basic communication etiquette and protocol, such as:

Identify yourself when initiating transmission.

Pause a second or two before speaking as there may be a delay.

Speak in short, clear, concise messages.

Release the talk button when done speaking.

Be patient and allow time for the message recipient to respond.

Utilize radio lingo for clear messaging, such as "over", "do you copy" and "copy", "go ahead", "stand by", "say again", "roger", and "out".

Radios should only be used for communication regarding the job at hand and should never be used for personal communication.

Radios should be turned in at the end of each work day for charging.

Make sure users are on the proper channel to communicate with team members.

Crane operator radios should be equipped with a hands-free system.
About R. Baker & Son All Industrial Services
R. Baker & Son All Industrial Services, a Service-Disabled Veteran-Owned Business (SDVOB) in business since 1935, is a premier specialized contractor operating in the United States, Canada and Puerto Rico, with over one hundred employees and an exemplary safety record (we have been directly involved in four sites that received VPP OSHA Safety Awards). R. Baker & Son is financially strong, with bonding capabilities over $10 million. Capabilities include industrial and commercial demolition, rigging, machinery- and plant-moving, dismantling, decommissioning, plant and equipment relocation, interior demolition, selective demolition, warehousing, wrecking and razing, millwright, plant reconfigurations, heavy rigging, salvage, environmental services, remediation, decontamination, abatement, and investment and asset recovery.
R. Baker & Son - All Industrial Services
190 Boundary Road
Marlboro, NJ 07746
732-222-3553
Full News Archive
2023
2022
2021
2020
2019
2018
2017
2016
2015
2014
2013
2012
2011
2010
2009
2008