Demolition Project Goes Underground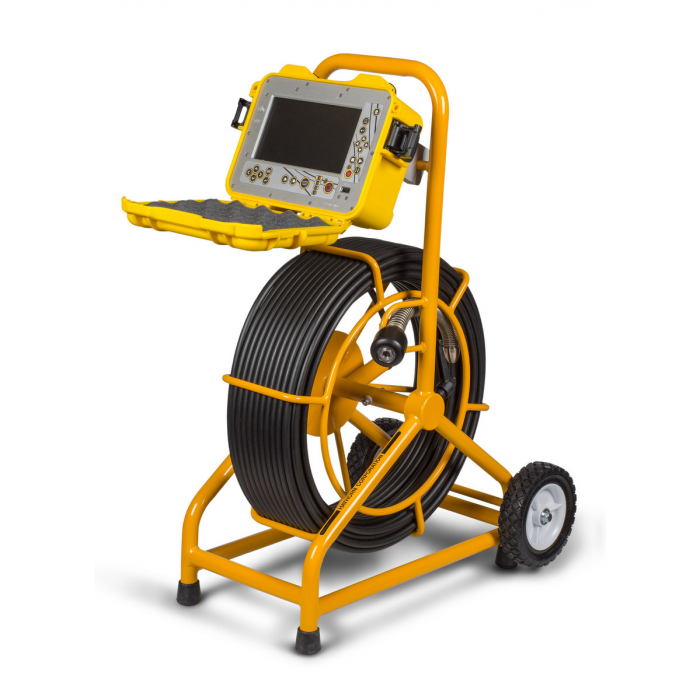 A 175,000 square-foot OTC R&D and production building, constructed in the early 1960s, was undergoing complete interior demolition to be repurposed as a pilot facility. The demolition schedule was very tight, as construction and installation were to begin immediately behind demolition as it progressed from area to area. R. Baker & Son carefully planned debris removal routes so as not to impede the new construction of new walls, floors, ceilings and MEP systems.
Problems arose on the ground floor soon after interior demolition had been completed in that area. Plumbers attempting to tie new sanitary piping to the existing system to support new mechanical equipment were finding that the old piping was breaking and collapsing. A borescope revealed that all of the existing piping beneath the concrete slab was in poor shape and would have to be replaced.
To expedite the process, the plumbing contractor and R. Baker & Son joined up to accomplish this unexpected and arduous task as expeditiously as possible. Piping requiring demolition and replacement was quickly identified and marked, and four R. Baker teams working on two shifts cut and removed the concrete slab on grade. After testing clean for contamination, the concrete was recycled, and dirt from trenches was tested, as well, before being reused to cover up the new pipe system.
Plumbers followed close behind R. Baker & Son's demolition workers, removing old piping and replacing it with new. Following pressure testing, the Baker team covered the new piping and compacted the earth to prepare for pouring of new concrete floors. Working in double shifts, R. Baker & Son and the plumbing contractor were able to complete the floor demolition and pipe replacement rapidly, resulting in just a one-week overall schedule delay.

photo- Triton Camera
About R. Baker & Son All Industrial Services
R. Baker & Son All Industrial Services, a Service-Disabled Veteran-Owned Business (SDVOB) in business since 1935, is a premier specialized contractor operating in the United States, Canada and Puerto Rico, with over one hundred employees and an exemplary safety record (we have been directly involved in four sites that received VPP OSHA Safety Awards). R. Baker & Son is financially strong, with bonding capabilities over $10 million. Capabilities include industrial and commercial demolition, rigging, machinery- and plant-moving, dismantling, decommissioning, plant and equipment relocation, interior demolition, selective demolition, warehousing, wrecking and razing, millwright, plant reconfigurations, heavy rigging, salvage, environmental services, remediation, decontamination, abatement, and investment and asset recovery.
R. Baker & Son - All Industrial Services
190 Boundary Road
Marlboro, NJ 07746
732-222-3553
Full News Archive
2023
2022
2021
2020
2019
2018
2017
2016
2015
2014
2013
2012
2011
2010
2009
2008