The Intricacies of Building Implosion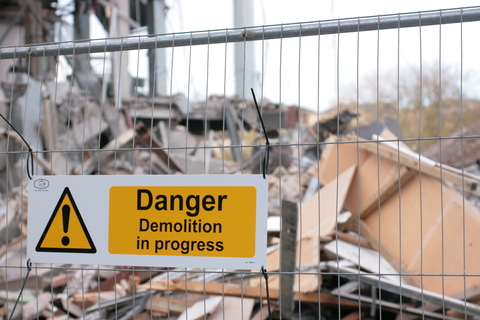 In the controlled demolition industry, the commonly-used term "implosion" is a bit of a misnomer. A building implosion is actually a large series of pre-calculated detonations that cut a structure's supports in an intricately planned, timed and executed sequence of operation. Explosives remove internal supports first, and outer supports are pulled by gravity into the center of the structure. Controlled implosion can be done on a much shorter schedule than traditional demolition, and can greatly reduce project costs. When engineered and executed properly, implosion can safely reduce a large building or structure to a pile of rubble in seconds, rather than months or years.

Safeguarding nearby people and surrounding buildings is most important part of implosion demolition, particularly when performed in an urban setting. Months of preparation and planning go into a project, and the actual implosion usually occurs on a Sunday morning, when there is minimal human activity. Spectators who turn out to see the show are kept outside a safe perimeter. Experiencing a final check and countdown, feeling the percussion of explosives, and watching a building collapse gracefully into a neat pile of rubble in a matter of seconds, and hearing the cheer of the crowd is an impressive and exciting experience for demolition enthusiasts and workers alike.
About R. Baker & Son All Industrial Services

R. Baker & Son All Industrial Services, a Service-Disabled Veteran-Owned Small Business (SDVOSB) in business since 1935, is a premier specialized contractor operating in the United States, Canada and Puerto Rico, with over one hundred employees and an exemplary safety record (we have been directly involved in four sites that received VPP OSHA Safety Awards). R. Baker & Son is financially strong, with bonding capabilities over $10 million. Capabilities include industrial and commercial demolition, rigging, machinery- and plant-moving, dismantling, decommissioning, plant and equipment relocation, interior demolition, selective demolition, warehousing, wrecking and razing, millwright, plant reconfigurations, heavy rigging, salvage, environmental services, remediation, decontamination, abatement, and investment and asset recovery.
R. Baker & Son - All Industrial Services
1 Globe Court
Red Bank, NJ 07701
732-222-3553
http://www.rbaker.com
Full News Archive
2023
2022
2021
2020
2019
2018
2017
2016
2015
2014
2013
2012
2011
2010
2009
2008