Baker Performs Multi Heat Exchanger Changeout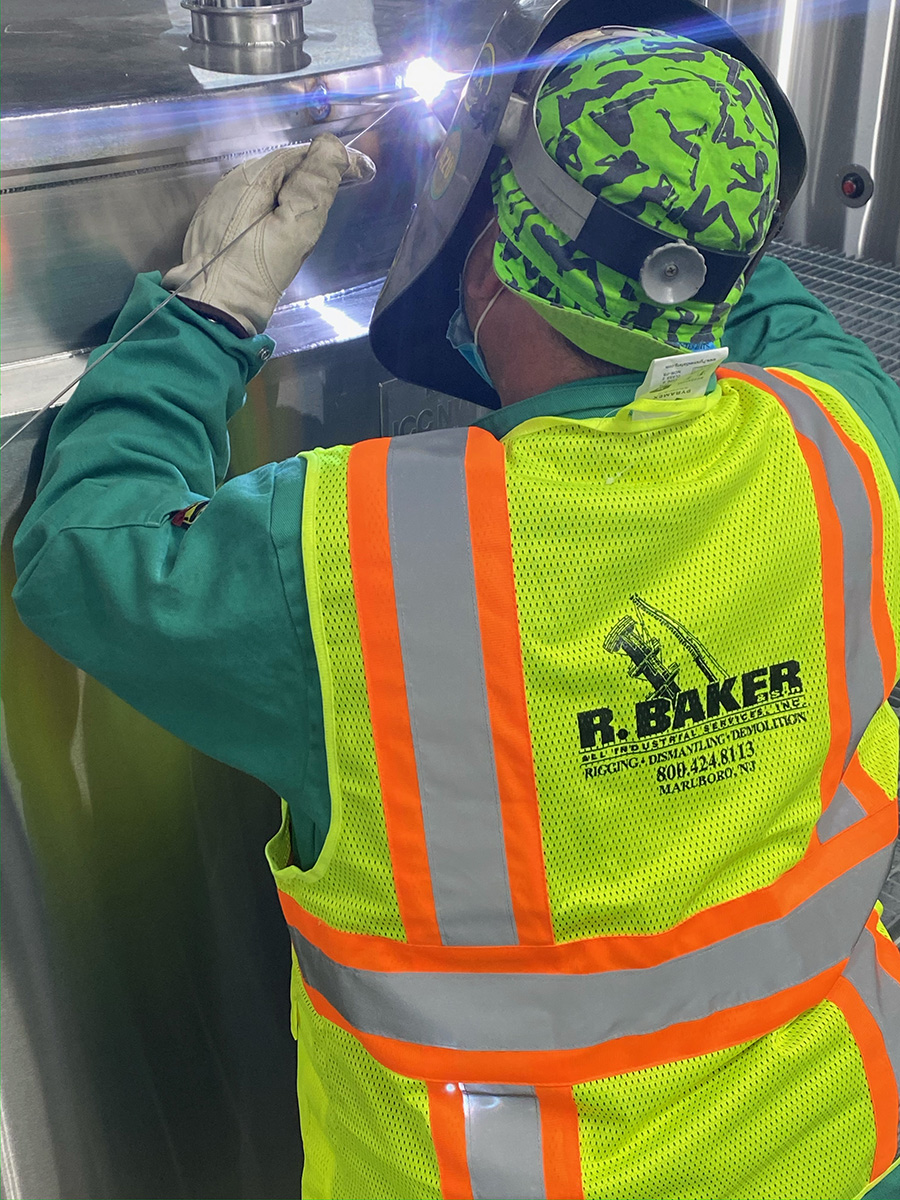 Back in early 2021, R. Baker & Son took part in a food manufacturing construction project in which we performed rigging and assembly of six large, high-pressure steam ovens over a ten-week period. Each of the ovens had arrived in multiple pieces and were installed using gantries, pneumatic chain blocks, and large forklifts. Our crew worked in coordination with the oven manufacturer, the project was completed safely and on time, and the ovens were placed into operation.
Many months later, we received a call from the facility owner requesting our assistance. The ovens hadn't been performing up to par due to a problem with heat exchangers, so the heat exchangers – two in each oven – would require removal and replacement.
Because the plant was in operation around the clock, the replacements would have to be done one at a time. Individual ovens were locked and tagged out as work progressed and isolated with barriers to prevent access by plant personnel. Maneuvering space near and between the ovens was somewhat tight, so the Baker crew used two small forklifts to perform the job. First, the ovens' side covers were removed to provide access to the heat exchangers. We unbolted the 3-inch steam flanges secured to the units and removed them from their internal supports using electric chain blocks and the forklifts. The new heat exchangers were moved into place and remounted onto their supports, followed by reconnection of the steam flanges. Once each heat exchangers had been successfully pressure-tested, we reinstalled the covers and turned the ovens over to the facility for testing and commissioning.
This one-by-one process continued, working around the plant's manufacturing schedule and oven availability, and the project was successfully completed within a four-week period.
About R. Baker & Son All Industrial Services
R. Baker & Son All Industrial Services, a Minority and Women-Owned Business Enterprise (M/WBE), in business since 1935, is a premier specialized contractor operating in the United States, Canada, and Puerto Rico, with over one hundred employees and an exemplary safety record (we have been directly involved in four sites that received VPP OSHA Safety Awards). R. Baker & Son is financially strong, with bonding capabilities of over $10 million. Capabilities include industrial and commercial demolition, rigging, machinery- and plant-moving, dismantling, decommissioning, plant and equipment relocation, interior demolition, selective demolition, warehousing, wrecking and razing, millwright, plant reconfigurations, heavy rigging, salvage, environmental services, remediation, decontamination, abatement, and investment and asset recovery.
R. Baker & Son - All Industrial Services
190 Boundary Road
Marlboro, NJ 07746
732-222-3553
Full News Archive
2023
2022
2021
2020
2019
2018
2017
2016
2015
2014
2013
2012
2011
2010
2009
2008