Tool and Equipment Tracking - Crane Rigging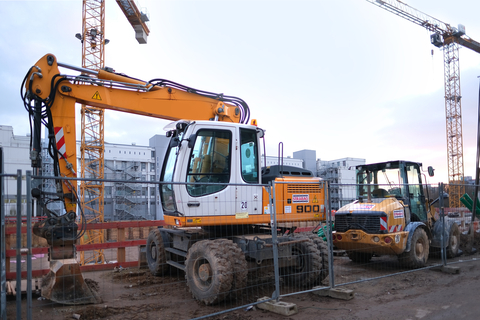 Crane rigging requires a lot of tools and equipment. Visitors to a large R. Baker & Son rigging operation might see forklifts, cranes, excavators, generators, articulating booms, front loaders, lulls, chain hoists, pneumatic hammers, pry bars, backhoes, wrenches, slings, shackles, and spreader bars, just to name a few. What they won't see is all of the planning, organization, maintenance, and inventory control that goes on behind the scenes to ensure that all of these rigging tools and equipment are in tip-top shape and can be readily located across all R. Baker job sites at any given moment. This also extends to equipment that's in for service or scheduled maintenance.
With hundreds of pieces of equipment and a dozen or more ongoing projects on various schedules, tool and equipment tracking is of supreme importance at R. Baker & Son. We use robust tool management software customized to our operation to ensure that our crews are always equipped with what they need and that our clients are provided with exemplary service.
Getting replacement parts for tools and equipment has been a challenge due to the current supply chain problems, so R. Baker & Son invested more heavily in critical spare parts than usual to ensure that we have what we need, especially on long-lead parts.
Our site crews thoroughly inspect all tools and equipment when received and send back any that are damaged or otherwise unfit for use. These items are "flagged and tagged" for assessment by our maintenance department to determine whether they are to be repaired, replaced, or discarded. R. Baker & Son mechanics, welders, and electricians help keep many of our repairs in-house and under our strict control, which is an advantage that allows freedom from depending on others to meet deadlines. All rigging equipment – slings, harnesses, shackles, cables, straps, hooks, pins, etc. – found to be worn, frayed, kinked, corroded, or otherwise damaged are permanently removed from service. We are always actively purchasing new equipment and tools to replenish retired inventory.
About R. Baker & Son All Industrial Services
R. Baker & Son All Industrial Services, a Minority and Women-Owned Business Enterprise (M/WBE), in business since 1935, is a premier specialized contractor operating in the United States, Canada, and Puerto Rico, with over one hundred employees and an exemplary safety record (we have been directly involved in four sites that received VPP OSHA Safety Awards). R. Baker & Son is financially strong, with bonding capabilities of over $10 million. Capabilities include industrial and commercial demolition, rigging, machinery- and plant-moving, dismantling, decommissioning, plant and equipment relocation, interior demolition, selective demolition, warehousing, wrecking and razing, millwright, plant reconfigurations, heavy rigging, salvage, environmental services, remediation, decontamination, abatement, and investment and asset recovery.
R. Baker & Son - All Industrial Services
190 Boundary Road
Marlboro, NJ 07746
732-222-3553
Full News Archive
2023
2022
2021
2020
2019
2018
2017
2016
2015
2014
2013
2012
2011
2010
2009
2008