R. Baker & Son: Dust Suppression and Control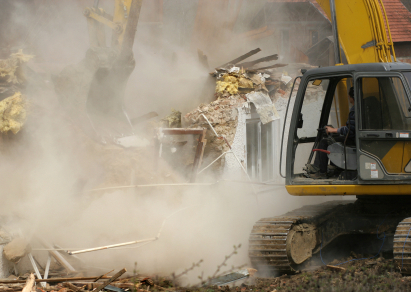 Dust control is an absolute necessity when performing demolition, interior demolition, or selective demolition projects. Demolition dust can create health and safety risks, contaminate the environment, reduce visibility, and can even create an explosion hazard, and government agencies and municipalities enforce strict controls. Fortunately, there numerous measures and procedures that can effectively suppress dust and capture airborne particles. R. Baker & Son complies with all regulations and standards to ensure superior dust control on every project.
Wetting of surfaces with hoses or sprinklers has been used as a dust suppression practice for many years, thwarting particles from becoming airborne at their source. There are limitations to this method; once materials have been broken, dry surfaces are exposed, requiring additional suppression measures. Materials can become oversaturated, and standing water can create environmental and safety concerns. Hoses and sprinkler heads must be closely monitored, and water must be properly diverted, drained, or contained.

Wet misting is a highly effective method for controlling and suppressing demolition dust. There are two types. With an electrostatic fog system, miniscule electrostatically-charged water droplets attract and bond with airborne dust particles. This method cannot be used where wind conditions exist, and thus is generally used for interior selective demolition. Atomized spray dust suppression systems, ideal for open-air demolition, launch small water droplets into the air with a large fan while simultaneously wetting material surfaces. The droplets collide with and capture airborne particles, causing them to fall to the ground.
Dust barriers should be used during interior demolition to contain airborne particles, particularly in operational facilities where personnel are present. HEPA air cleaners can be utilized, and special filters can be installed on air handling units. To prevent particles from contaminating clean areas via clothing and footwear, workers can be required to wear shoe covers and Tyvek suits, and adhesive mats can be placed at work area entrances and exits. Equipment should be cleaned and decontaminated before being moved through clean areas. Surfaces should be wiped down, and floors, stairs and wall cavities cleaned and HEPA-vacuumed on a daily basis.

About R. Baker & Son All Industrial Services

R. Baker & Son All Industrial Services, a Service-Disabled Veteran-Owned Small Business (SDVOSB) in business since 1935, is a premier specialized contractor operating in the United States, Canada and Puerto Rico, with over one hundred employees and an exemplary safety record (we have been directly involved in four sites that received VPP OSHA Safety Awards). R. Baker & Son is financially strong, with bonding capabilities over $10 million. Capabilities include industrial and commercial demolition, rigging, machinery- and plant-moving, dismantling, decommissioning, plant and equipment relocation, interior demolition, selective demolition, warehousing, wrecking and razing, millwright, plant reconfigurations, heavy rigging, salvage, environmental services, remediation, decontamination, abatement, and investment and asset recovery.

Demolition, wrecking and razing, rigging, millwright, plant reconfigurations, heavy rigging, Service-Disabled Veteran-Owned Small Business / SDVOSB, salvage, dismantling, decommissioning, plant and machinery moving, building demolition, riggers, environmental services, remediation, decontamination, abatement, interior demolition, investment and asset recovery.

R. Baker & Son All Industrial Services
1 Globe Street
Red Bank, NJ 07701
Phone: 732-222-3553
Fax: 732-450-0311
Facebook: https://www.facebook.com/Demolition.Rigging
Full News Archive
2023
2022
2021
2020
2019
2018
2017
2016
2015
2014
2013
2012
2011
2010
2009
2008