Keeping a Construction Jobsite Clean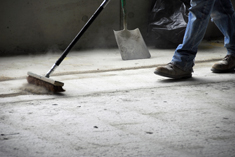 Keeping a construction jobsite clean of dust, dirt, and debris plays a large part in delivering a successful finished product, and contractors should develop and adhere to a detailed environmental plan on every project. Strict cleanliness is particularly important in operating facilities where personnel are present in adjacent areas, which is frequently the case on selective demolition, plant relocation, interior demolition, and equipment relocation and dismantling projects.
Plastic dust barriers can be used to enclose a workspace to contain dust and debris and prevent it from escaping into clean areas. HEPA air cleaners can be used to contain or filter construction dust, and filters can also be installed on outside air handling units. To capture particles from footwear, adhesive mats may be placed at work area entrances and exits, or stations can be set up for workers to put on shoe covers and Tyvek suits. When work in a particular section has been completed, signs and barriers can be used to route workers around the area. Washdown and wipedown stations may be set up to remove dirt and contaminants from equipment before it is moved through clean areas. Crews should perform thorough cleanup of the work area on a daily basis at minimum. Surfaces should be wiped down, floors, stairs, wall cavities, etc., can be cleaned with a HEPA vacuum, sweeper or scrubber.
R. Baker & Son provides clients with a comprehensive, strictly-enforced Environmental Plan on each project to sustain an immaculate jobsite that can pass a white-glove test upon completion with flying colors, and ensure that adjoining spaces remain free of dust, dirt and contamination. We also work closely with owners to develop a schedule to minimize dust, noise and vibration while building occupants are present.
About R. Baker & Son All Industrial Services

R. Baker & Son All Industrial Services, a Service-Disabled Veteran-Owned Small Business (SDVOSB) in business since 1935, is a premier specialized contractor operating in the United States, Canada and Puerto Rico, with over one hundred employees and an exemplary safety record (we have been directly involved in four sites that received VPP OSHA Safety Awards). R. Baker & Son is financially strong, with bonding capabilities over $10 million. Capabilities include industrial and commercial demolition, rigging, machinery- and plant-moving, dismantling, decommissioning, plant and equipment relocation, interior demolition, selective demolition, warehousing, wrecking and razing, millwright, plant reconfigurations, heavy rigging, salvage, environmental services, remediation, decontamination, abatement, and investment and asset recovery..

Demolition, wrecking and razing, rigging, millwright, plant reconfigurations, heavy rigging, Service-Disabled Veteran-Owned Small Business / SDVOSB, salvage, dismantling, decommissioning, plant and machinery moving, building demolition, riggers, environmental services, remediation, decontamination, abatement, interior demolition, investment and asset recovery.

R. Baker & Son All Industrial Services
1 Globe Street
Red Bank, NJ 07701
Phone: 732-222-3553
Fax: 732-450-0311
Full News Archive
2023
2022
2021
2020
2019
2018
2017
2016
2015
2014
2013
2012
2011
2010
2009
2008