NYCs Busy Kosciuszko Bridge to be Imploded Summer 2017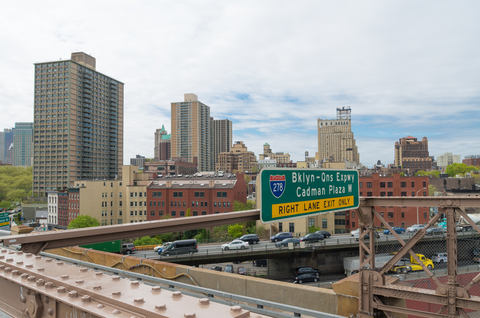 The 78 year-old Kosciuszko Bridge connecting Greenpoint, Brooklyn to Maspeth, Queens is being replaced with two new spans slated for completion in 2020. New York State Governor Andrew Cuomo announced last month that part of the span will be imploded in order to expedite the demolition portion of the project.
The Kosciuszko Bridge was designed to carry about 10,000 vehicles a day when it first opened in 1939. Today an estimated 185,000 vehicles use the bridge daily. The old truss bridge will be replaced by two new cable-stayed spans, one in each direction. All traffic will be diverted in April 2017 from the old bridge to the future eastbound span, the first the two spans to be completed. The second span will open in 2020 to westbound traffic.
Demolition of old truss the bridge will take place in two phases. In April or May, the 2,400-ton center section will be cut and rigged over the course of 48 hours onto two barges in the Newtown Creek. The two remaining sections, which total about three-quarters of a mile, will be demolished this summer by implosion, which will speed up the project by seven to nine months, according to Gov. Cuomo.
The announcement that explosives would be used for demolition set off contamination concerns among local residents, but state officials say that demolition contractors are taking all necessary precautions to prevent the release of hazardous particles into the already-polluted environment. The implosion is expected to draw a large crowd, with the Queens Chamber of Commerce holding an event in celebration of the demolition of the bridge.
R. Baker & Son - All Industrial Services
190 Boundary Road
Marlboro, NJ 07746
732-222-3553
http://www.rbaker.com
Full News Archive
2023
2022
2021
2020
2019
2018
2017
2016
2015
2014
2013
2012
2011
2010
2009
2008