Chemical Pilot Plant Demolition Project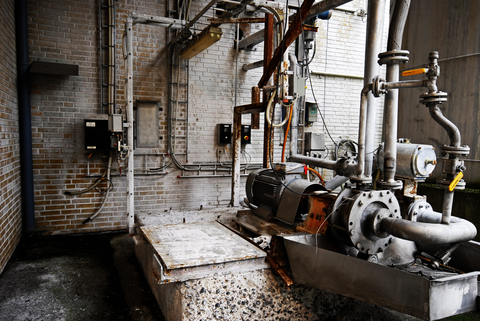 During a plant consolidation project, a three-story, 39,000 sq. ft. chemical pilot plant required demolition to make way for a future Butler storage building. R. Baker & Son worked closely with the client on overall safety, dust control, shutting down, locking out, and removing all utilities. Interestingly, our company had, thirty years earlier, rigged in all of the process equipment that was now being removed.
The building had easily-removable, translucent plastic panels on the north and south sides of the building through which much of the equipment was removed. This included reactors, heat exchangers, low-temperature chillers, and associated piping, as well as a 100,000 CFM air handling unit and all ductwork and electrical throughout the facility.
The structure was steel with concrete-filled block walls, and the east and west exteriors were brick. The demolition required two large excavators equipped with hydraulic hammers and shears working from each side. There was limited room to maneuver the excavators, so demolition debris removal required more careful coordination than usual. Debris was removed using skid steers and loaders to waiting trucks.
The building and slab were removed, leaving grade beams below. Underground piping was removed back to the main on the street and capped. All debris had been cleared from the site, three-quarter-inch gravel was brought in and spread where the building once stood. The project went smoothly and the owner was very satisfied as the Butler buildings were scheduled to be delivered and erected in four weeks' time.
About R. Baker & Son All Industrial Services
R. Baker & Son All Industrial Services, a Minority and Women-Owned Business Enterprise (M/WBE), in business since 1935, is a premier specialized contractor operating in the United States, Canada, and Puerto Rico, with over one hundred employees and an exemplary safety record (we have been directly involved in four sites that received VPP OSHA Safety Awards). R. Baker & Son is financially strong, with bonding capabilities of over $10 million. Capabilities include industrial and commercial demolition, rigging, machinery- and plant-moving, dismantling, decommissioning, plant and equipment relocation, interior demolition, selective demolition, warehousing, wrecking and razing, millwright, plant reconfigurations, heavy rigging, salvage, environmental services, remediation, decontamination, abatement, and investment and asset recovery.
R. Baker & Son - All Industrial Services
190 Boundary Road
Marlboro, NJ 07746
732-222-3553
Full News Archive
2023
2022
2021
2020
2019
2018
2017
2016
2015
2014
2013
2012
2011
2010
2009
2008